We combine professionalism with passion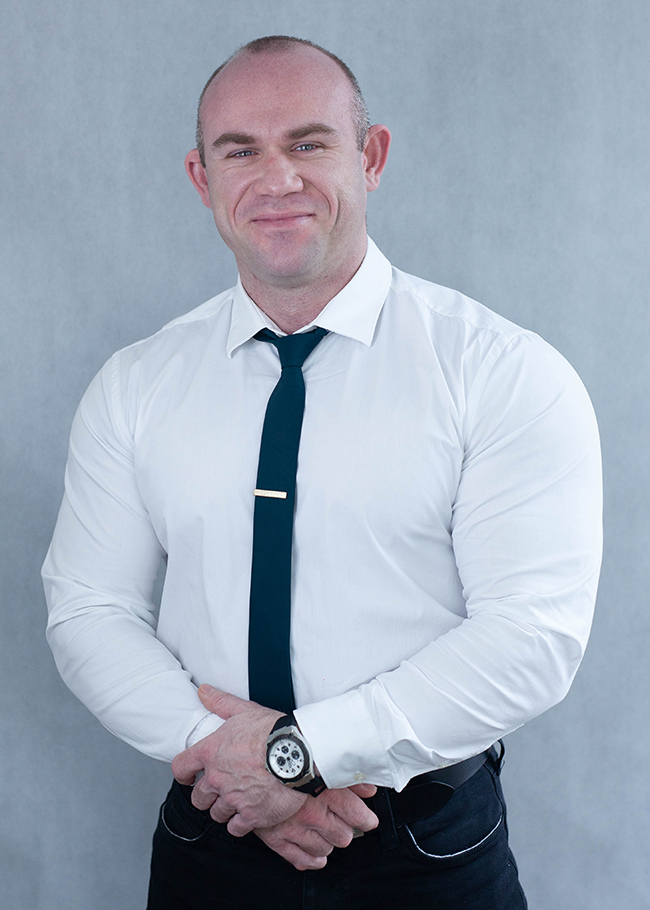 Polish Champion, finalist of the European Championship in bodybuilding, personal trainer of the Master class, co-owner and medical director of Wellclinic. Author of the guide "Secrets of a healthy figure". He gained his knowledge in Poland and the USA, learning from the best PRO league coaches in the world, such as Neil Hill and George Farah. In the USA, he also learned the ability to combine body shaping equipment and pro-health knowledge.
The author of the slogan "It's health that always wins"
His greatest dream was to give the effect of slimming to everyone, regardless of genetics, giving hope and courage to change his life, starting with the body, which is the temple of the soul.
Over the last two years, his proprietary clinic has become one of the most popular places in Poland in the field of body shaping and aesthetic medicine. Wellclinic serves over 800 patients each month. It is worth noting that athletes of body sports became frequent patients, who, thanks to the spectacular effects, became convinced of Krzysztof's innovative approach.
However, the greatest success is helping everyone, regardless of age, gender or genetics, because each of us has started sometime and each of us should receive help, which is made possible by the most modern technologies of medical devices.
An ambitious manager with many years of experience in working with a key client. Every day, he thinks creatively about the future and strategy of the company, at the same time motivating the team to achieve the set goal.
The basis of his work is full professionalism. Caring for each patient, he cares about providing the highest standard of service and creating an appropriate atmosphere that allows you to feel comfortable in any situation. Always full of energy, commitment and a smile.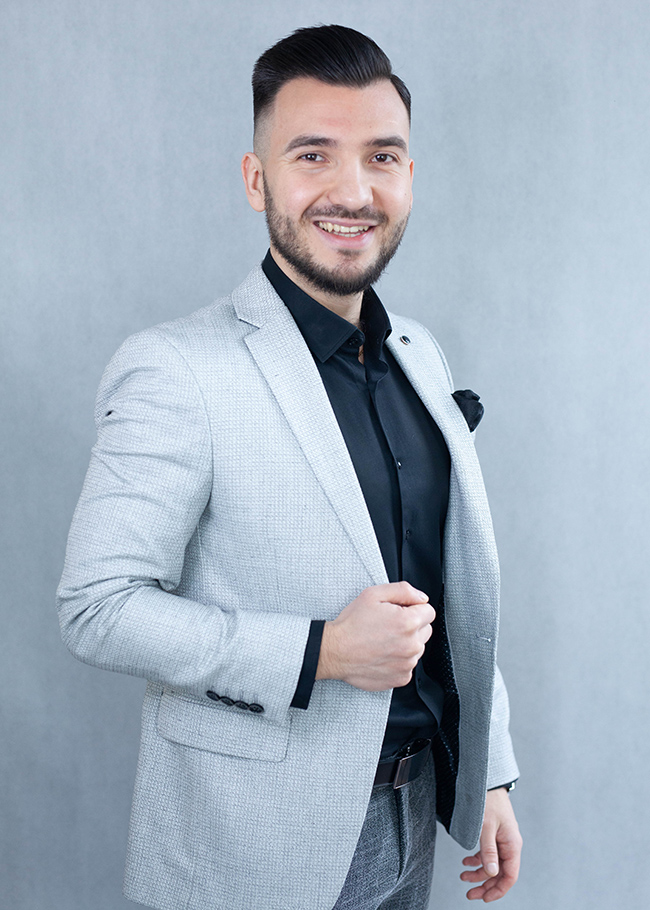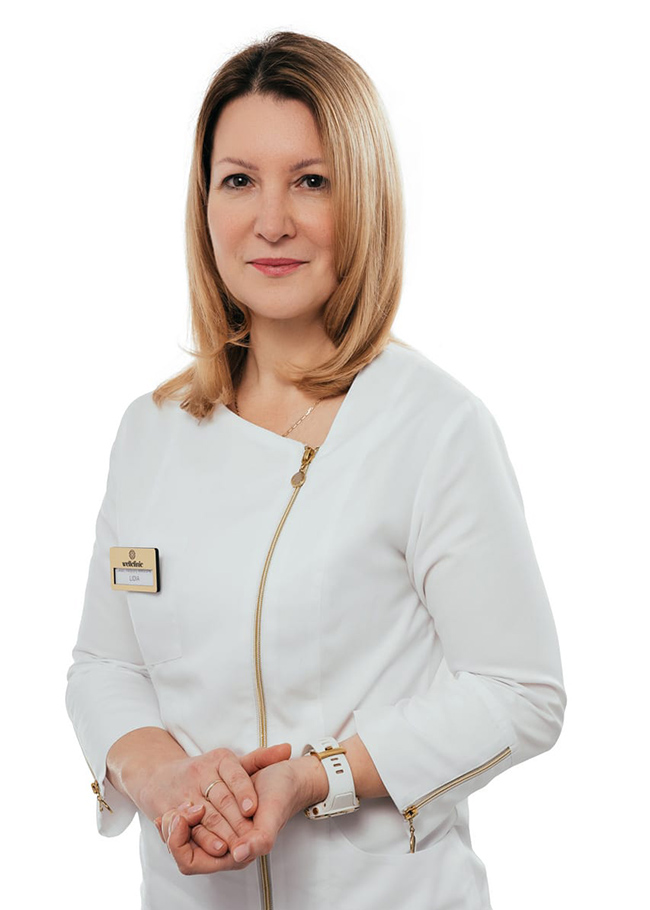 A graduate of the Faculty of Medicine at Medical University of Warsaw. Experienced Doctor of aesthetic and anti-aging medicine. Certified by the International Anti-Aging Medicine Education Center in Warszaw. She participated in many trainings and congresses around the world. 
She specializes in treatments with use of botulin toxin. Her passion is to restore a youthful appearnance without the effect of exaggeration and artigiciality.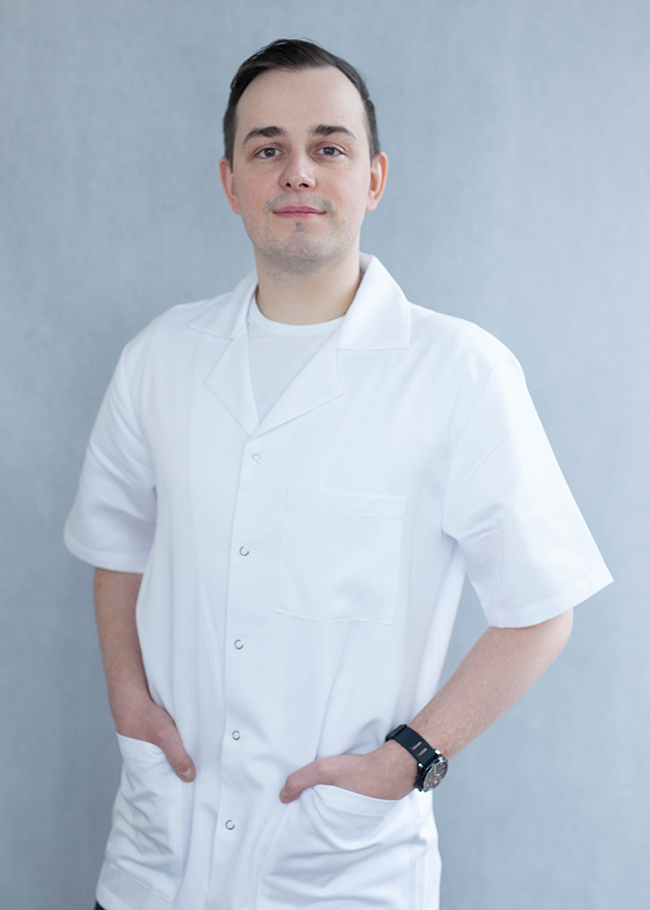 A graduate of the Faculty of Medicine of the Medical University of Silesia in Zabrze. He completed his post-graduate internship at the Specialist City Hospital of Gabriel Narutowicz in Krakow. He constantly improves his skills by participating in trainings and congresses in the field of aesthetic medicine.
He specializes in treatments with the use of the most powerful laser platform, Fotona Dynamis SP PRO. His main purpose is face and body laser treatments, in particular complex laser facial rejuvenation procedures.
Master class cosmetologist
A cosmetologist, fitness and bodybuilder trainer. An active competitor of body sports. The combo of specialization supported by experience is directed towards a holistic approach to the body and passion for the work performed.
The smile, results and patient satisfaction is the best reward. Many years of work with women focusing on the specifics of the female body – was the subject of the thesis – Lipo dystrophy or cellulite, which was broken down into primary factors, starting from etiopathogenesis, diagnosis through the influence of treatments, physical activity, diet, supplementation and ending with the method of treatment.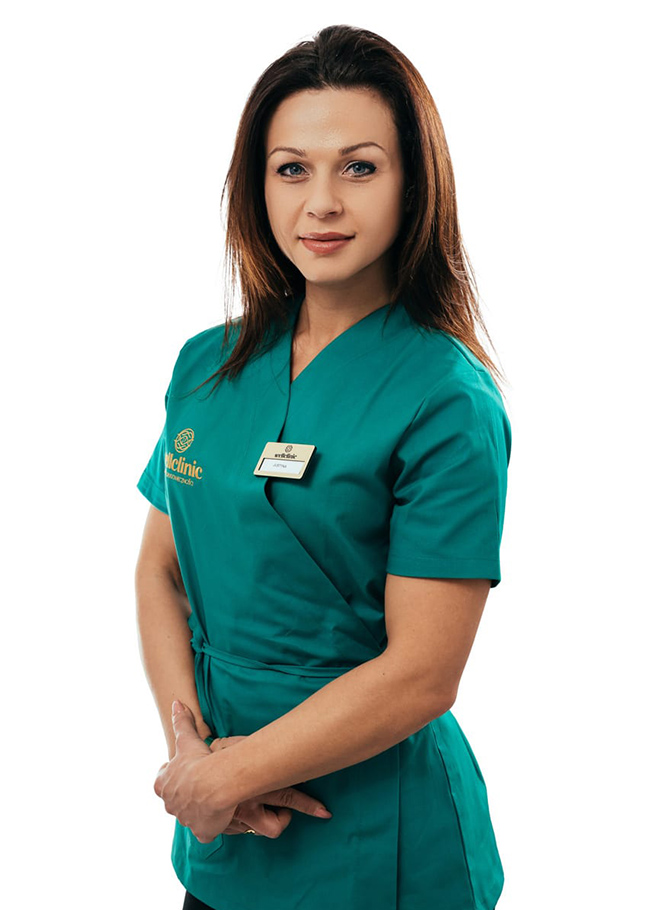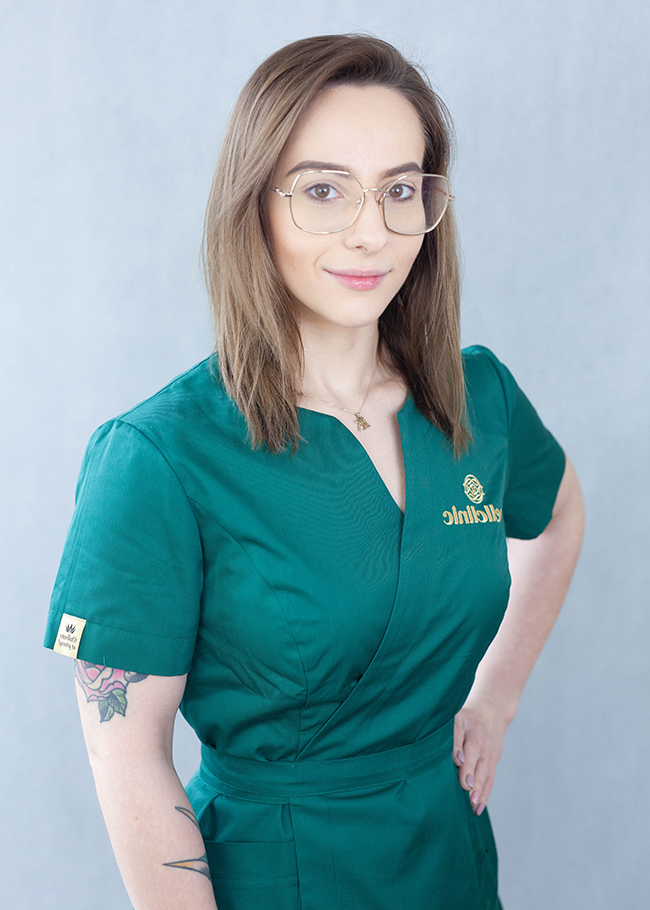 A graduate of the Higher School of Engineering and Health. Experienced body shaping surgeon and clinical and sports nutritionist. A long-term certified physiotherapist, personal trainer and cosmetic equipment operator.
She has participated in many trainings and courses in the field of dietetics, supplementation, physiotherapy and cosmetology. Passionate about strength sports and martial arts. Her leitmotif is taking care of health and body in a comprehensive manner.
A graduate of cosmetology at the University of Engineering and Health in Warsaw. Currently, she continues her education in the field of nursing at the University of Health Sciences. She constantly participates in trainings and courses in the field of aesthetic medicine and work with hi-tech devices. It is characterized by an individual and, above all, professional approach.
The obtained results and patient satisfaction are her greatest motivation for further development and continuous expansion of her knowledge. Cosmetology is her passion, so she approaches each patient with a smile and openness.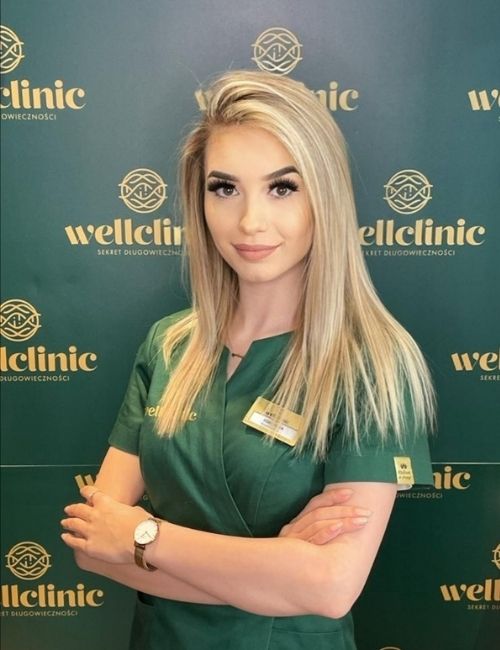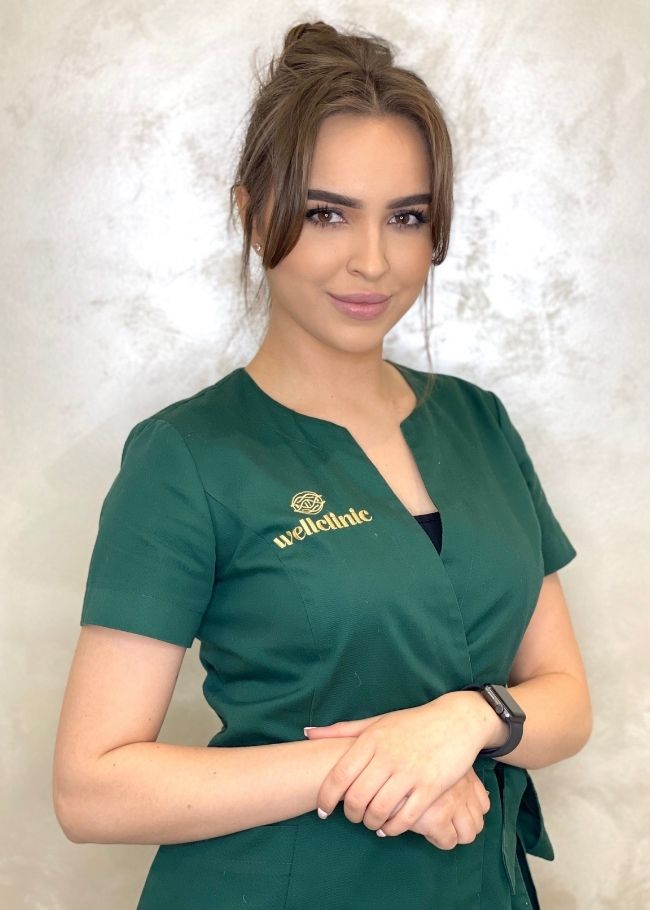 A graduate of MA studies in Cosmetology at the Social Academy of Sciences in Warsaw.
Working at Wellclinic allows her to dynamically develop practical and theoretical professional skills. She approaches each patient individually, selecting personalized therapies.
On a daily basis, she fulfills her passion for body shaping and laser hair removal at Wellclinic, taking care of spectacular effects and the luxury of patients.
Licensed cosmetologist, graduate of the College of Engineering and Health in Warsaw. Student of Collegium Mazovia, in the field of nursing. Her professional goal is continuous development. Always positive, empathetic and helpful. She broadens her knowledge by reading books and scientific articles in the field of clinical cosmetology.
When working at Wellclinic, she always puts the needs of our patients first, which, combined with knowledge and substantive preparation, allows her to support patients in choosing the right treatments.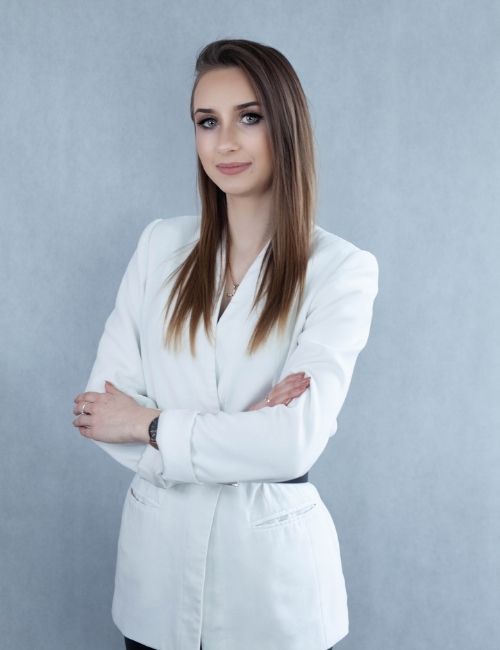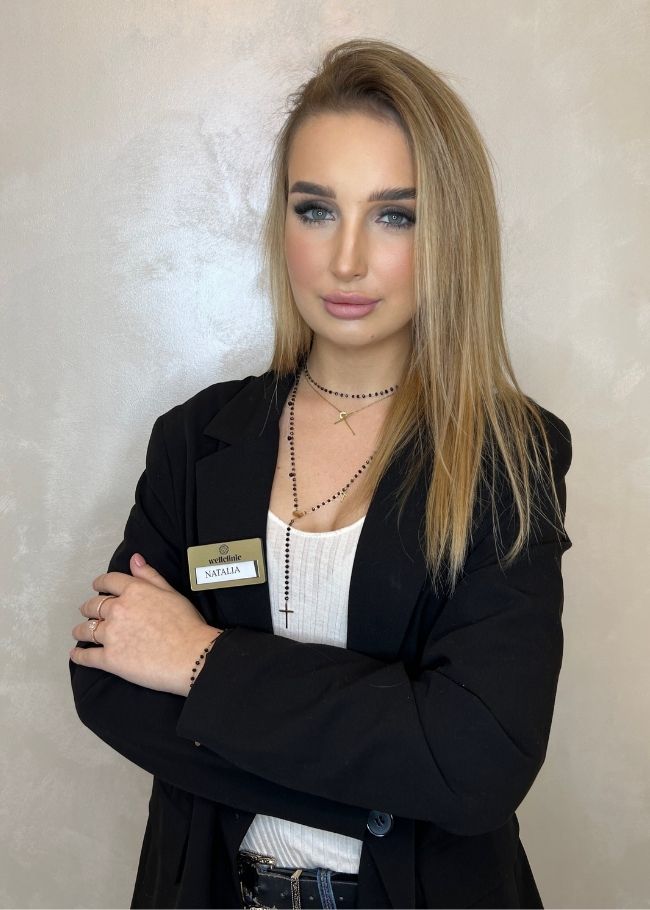 A graduate of the cosmetology department at the Higher School of Engineering and Health in Warsaw. She obtained the title of a licensed cosmetologist, and will soon start studying at the Master's degree.
At Wellclinic, she cares for patients from the very entrance, creating a friendly atmosphere as a patient caregiver. In the office you can meet her where she develops her professional qualifications while performing laser epilation treatments. She focuses on continuous development and takes part in numerous courses and professional trainings in cosmetology and aesthetic medicine.
Student of the University of Engineering and Health in Warsaw, majoring in Cosmetology. On a daily basis in Wellcinic, she advises patients with great commitment and kindness and cares about their well-being.
She is constantly expanding her knowledge with new trends in the field of cosmetology and high-tech devices.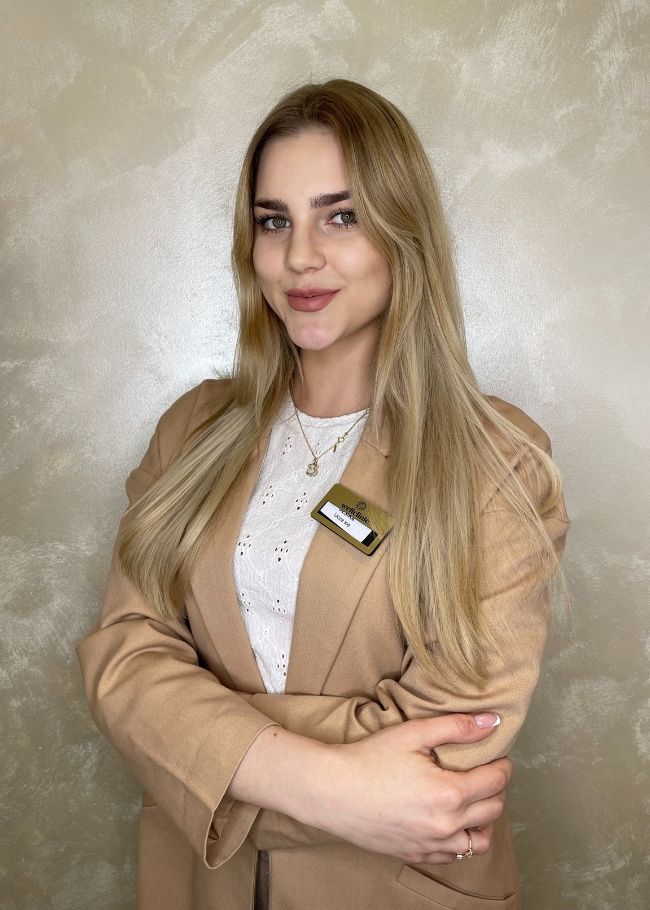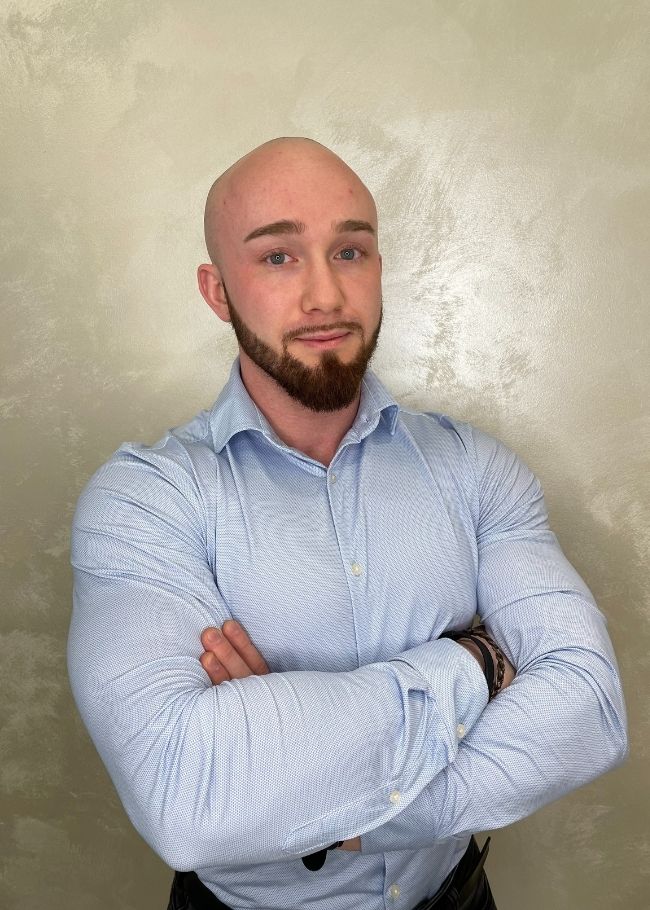 He has been involved in strength and body sports since the age of 14. For many years under the care of the founder of the clinic, Krzysztof Reinhard. Now, with his knowledge and experience, he supports Wellclinic patients in the decision-making process.
Wellclinic was chosen as a workplace to participate in the mission of building an international network of medical clinics. For many years he has been dealing with professional customer service. With his commitment and professional approach, he contributes to patient satisfaction and increases the trust of Wellclinic on the global market.
Imagine a life in perfect health, full of inner strength.
Health, youth and relaxation in the best aesthetic medicine clinic in Warsaw.
Make an appointment for a free consultation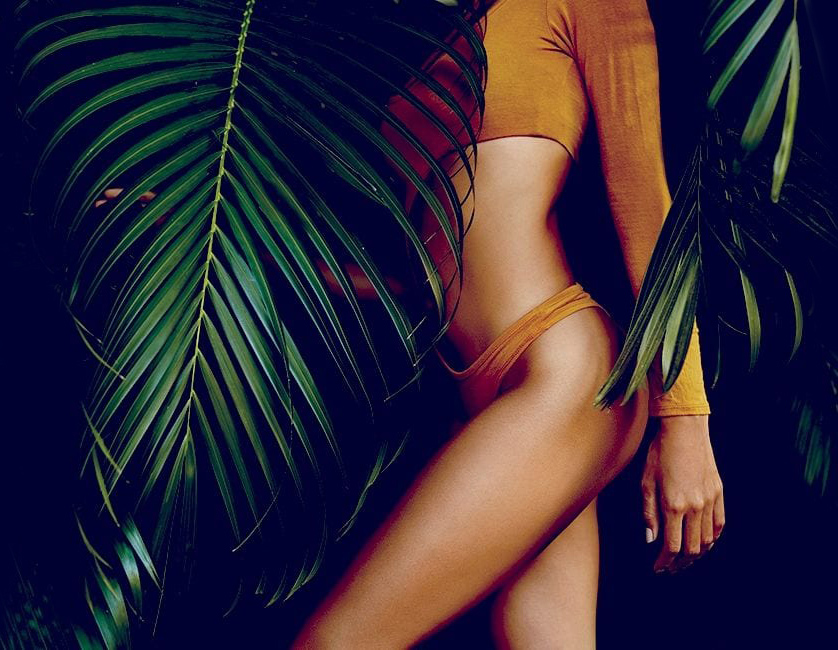 we will arrange a meeting for you
we will reply as soon as possible